It is with a heavy heart that we share the passing of longtime SOC member and ex-Board of Governors officer Douglas Knapp, SOC.
Doug Knapp served on the SOC Board of Governors from 1988 to 2010 . During his time as Treasurer he was instrumental in the creation of Camera Operator magazine under SOC President Randall Robinson, SOC, where he served as the Publishing Manager of the publication for over 20 years. He frequently attended SOC events after his time served on the Board and continued to support the SOC through its growth as an organization. His contribution to the Society has strengthened the bond between our members and has helped connect Camera Operators around the world in supporting our mission.
Doug is remembered for his work on Escape from New York, Back to School, Star Trek: Voyager & Murphy Brown.
Doug Knapp lost his battle with pancreatic cancer on February 3rd, 2020. He is survived by his partner Rebecca Olkowski and daughter Allyson. He will be remembered for his incredible contribution to the craft and the memories he created with family, friends, and co-workers who will miss him.
The Society of Camera Operators Announces
Geoff Haley, SOC (Joker) and Jim McConkey, SOC (The Marvelous Mrs. Maisel) As Camera Operators of the Year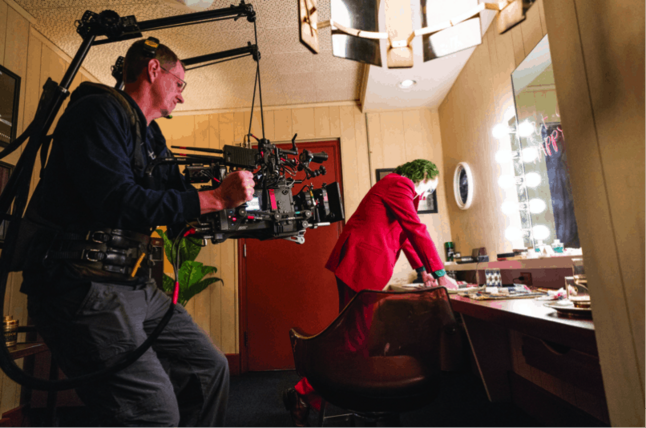 Camera Operator of the Year Recipient Geoff Haley, SOC behind the scenes on Joker.
Los Angeles, CA (January 19, 2020) — The Society of Camera Operators (SOC) announced the recipients for Camera Operator of the Year in Film is Geoff Haley, SOC and in the Television catergory: Jim McConkey, SOC, during the Lifetime Acheivement Awards on Saturday, January 18, 2020. Hosted at the Loews Hollywood Hotel, the star-studded night was streamed live to thousands internationally while over 500 industry professionals and iconic celebrities celebrated the achievements of excepetional film makers and crews.
Geoff Haley, SOC took home the title of Camera Operator of the Year in Film for his work on the Joker. Haley topped a talented group of nominees in the film category including: Sam Ellison (A Beautiful Day in the Neighborhood); Craig Haagensen, SOC (Motherless Brooklyn), David Luckenbach, SOC (Ford vs Ferrari); and Dale Myrand, SOC (Knives Out).
Jim McConkey, SOC was awarded Camera Operator of the Year in Television for his work on The Marvelous Mrs. Maisel. The TV category nominees included: Chris Cuevas (Watchmen); Mitch Dubin, SOC (Legion); Jeff Muhlstock, SOC (Mr. Robot); and Sean Savage, ACO, SOC (Game of Thrones).
Academy Award winning actress Natalie Portman was awarded the Lifetime Achievement Awards Govenor Award and legendary actress and philanthropist Jamie Lee Curtis was recognized with the Lifetime Achievement President's Award.
Following are the honorees and nominees:
Camera Operator of the Year – Film Nominees:
Sam Ellison – A Beautiful Day in the Neighborhood
Craig Haagensen, SOC – Motherless Brooklyn
Geoff Haley, SOC – Joker
David Luckenbach, SOC – Ford vs Ferrari
Dale Myrand, SOC – Knives Out
Camera Operator of the Year – Television Nominees:
Chris Cuevas – Watchmen
Mitch Dubin, SOC – Legion
Jim McConkey, SOC – The Marvelous Mrs. Maisel
Jeff Muhlstock, SOC – Mr. Robot
Sean Savage, ACO, SOC – Game of Thrones
Achievement Awards:
President's Award – Jamie Lee Curtis
Governors Award – Natalie Portman
Distinguished Service Award – Steven Poster, ASC
Camera Operator – Colin Anderson, SOC
Camera Operator Live & Non-Scripted – Dave Levisohn
Mobile Camera Platform Operator – J "Moose" Howery
Camera Technician – Heather Norton
Still Photographer – Frank Masi
Technical Achievement Award – SONY VENICE Extension System ("Rialto mode")