A Letter from SOC President George Billinger
Dear Society members and their families and friends,
My heart and sincere thoughts go out to everyone being affected by the COVID-19 pandemic. These are truly unprecedented circumstances globally and within our own entertainment community. We here at the SOC and the Board Of Governors our doing our best to navigate this complex and ongoing situation.
The Society has postponed any in person upcoming events. Our Speed Mentoring and the soon to be announced Steadicam Workshop and Operating Masterclasses will be on hold until we have a clear idea of what the future holds.
At this time, we will continue to connect with you through SOC.org, social media, and email. The SOC staff and consultants will be working from home. And the SOC office be closed to in person visits until further notice.
I am committed to working through these uncertain times together. We are the best artists in the world at what we do, and will continue to be.
And on a personal note, your welfare and that of your families are my biggest concern.
Let's all do our best to stay in touch with each other, and share any news or thoughts you might have.
We will continue to inspire, learn and create together. That is unchanged.
From my family to yours I wish you the utmost safety and well being with many blessings. I look forward to getting beyond this and seeing everyone very soon.
Warmest regards always,
George Billinger, SOC President
NAB Postponed, JL Fisher Industry Mixer Cancelled
As of Wednesday, March 11th, NAB Expo has been postponed until further notice and the JL Fisher Industry Mixer has been cancelled.
We will update with more information regarding the NAB Expo soon.
The SOC Office will be closed until further notice.
It is with a heavy heart that we share the passing of charter SOC member  Gary Kibbe.
Gary Kibbe was cinematographer for several of John Carptenter's films, including Prince of Darkness, Escape From L.A., Ghosts of Mars, and several others.
His earlier work as camera operator saw him on such productions as Convoy, They Gave a War and Nobody Came, Sixteen Candles and Star 80.
Gary passed away on March 9th, 2020 in Burbank, CA. His legacy and contributions to the art and craft of Camera Operating serve as inspiration to his colleagues, friends, and family. He will be missed greatly by our community and our thoughts go out to his family at this time.
The Society of Camera Operators Announces
Geoff Haley, SOC (Joker) and Jim McConkey, SOC (The Marvelous Mrs. Maisel) As Camera Operators of the Year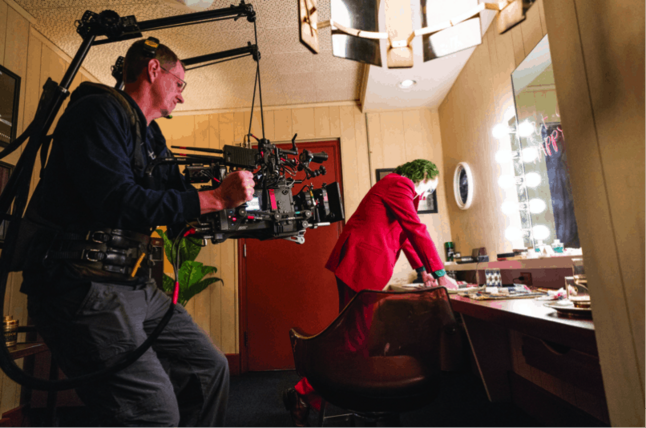 Camera Operator of the Year Recipient Geoff Haley, SOC behind the scenes on Joker.
Los Angeles, CA (January 19, 2020) — The Society of Camera Operators (SOC) announced the recipients for Camera Operator of the Year in Film is Geoff Haley, SOC and in the Television catergory: Jim McConkey, SOC, during the Lifetime Acheivement Awards on Saturday, January 18, 2020. Hosted at the Loews Hollywood Hotel, the star-studded night was streamed live to thousands internationally while over 500 industry professionals and iconic celebrities celebrated the achievements of excepetional film makers and crews.
Geoff Haley, SOC took home the title of Camera Operator of the Year in Film for his work on the Joker. Haley topped a talented group of nominees in the film category including: Sam Ellison (A Beautiful Day in the Neighborhood); Craig Haagensen, SOC (Motherless Brooklyn), David Luckenbach, SOC (Ford vs Ferrari); and Dale Myrand, SOC (Knives Out).
Jim McConkey, SOC was awarded Camera Operator of the Year in Television for his work on The Marvelous Mrs. Maisel. The TV category nominees included: Chris Cuevas (Watchmen); Mitch Dubin, SOC (Legion); Jeff Muhlstock, SOC (Mr. Robot); and Sean Savage, ACO, SOC (Game of Thrones).
Academy Award winning actress Natalie Portman was awarded the Lifetime Achievement Awards Govenor Award and legendary actress and philanthropist Jamie Lee Curtis was recognized with the Lifetime Achievement President's Award.
Following are the honorees and nominees:
Camera Operator of the Year – Film Nominees:
Sam Ellison – A Beautiful Day in the Neighborhood
Craig Haagensen, SOC – Motherless Brooklyn
Geoff Haley, SOC – Joker
David Luckenbach, SOC – Ford vs Ferrari
Dale Myrand, SOC – Knives Out
Camera Operator of the Year – Television Nominees:
Chris Cuevas – Watchmen
Mitch Dubin, SOC – Legion
Jim McConkey, SOC – The Marvelous Mrs. Maisel
Jeff Muhlstock, SOC – Mr. Robot
Sean Savage, ACO, SOC – Game of Thrones
Achievement Awards:
President's Award – Jamie Lee Curtis
Governors Award – Natalie Portman
Distinguished Service Award – Steven Poster, ASC
Camera Operator – Colin Anderson, SOC
Camera Operator Live & Non-Scripted – Dave Levisohn
Mobile Camera Platform Operator – J "Moose" Howery
Camera Technician – Heather Norton
Still Photographer – Frank Masi
Technical Achievement Award – SONY VENICE Extension System ("Rialto mode")